Expert Window Installation and Replacement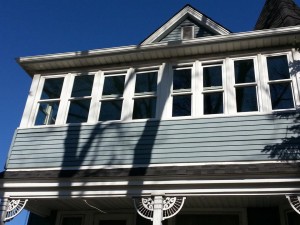 J. Cizek & Sons has been replacing windows for more than 20 years.  With so many different reasons to replace your windows, it is hard to know where to start.  From the high cost of energy to the constant maintenance of old drafty windows, Dean or Don, or one of their team of experts can inform you about all the window options that would work best for your window needs.  They will come to your home and bring you window samples, provide literature, and describe the installation process to help you with your decision.
J. Cizek & Sons takes pride in properly installing windows.  Window installation is the key to a successful window replacement job.  Properly insulating and correctly installing custom aluminum trim and flashings will eliminate unnecessary drafts and moisture from entering the home.  We treat your home as if it were ours.  We will lay drop clothes and take other necessary measures to minimize dust and dirt from entering your home during installation.  In most cases it will take only one day to install your windows.
We have confidently selected the following window companies based on their superior quality, window options and outstanding warranties.  These companies have been reliable partners of J. Cizek & Sons for many years.  There are many window manufactures to choose from but we have selected these based on their outstanding value and commitment to the window industry.